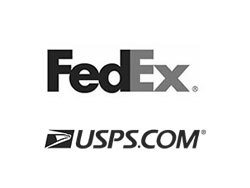 Off-continent Shipping
SKU INTL
Product Details
General: This item is used for off-continent trophy shipping - North America to abroad. You should see a pull-down menu item created for you by our staff with the shipping quote.

Details: Winners are located all over the world and as a result, shipping rates for trophies vary greatly. To receive a pass-through shipping rate for your desired order, email us with what you wish to order ([email protected]) and the shipping address.
Once you hear from us, return here and use the pulldown menu item created for your shipment. Note there is an automatic $10 customs paperwork fee from our manufacturer in order to process overseas shipments.
Import duties and taxes:
Award winners are responsible should there be any import duties or taxes incurred by in incoming trophy delivery. With award winners all over the globe, it is not possible for the Summit Awards to monitor nor incur geographic taxation on behalf of our winners.
Shipping Quote: Please CONTACT US PRIOR to placing your order for an exact shipping quote. Late arriving shipping will delay the order.
SCA Crystal - 14lbs - FedEx
SCA Composite - 4lbs - FedEx and USPS
MEA Marble Dart - 9lbs - FedEx
EMA Orb - 8lbs - FedEx
Save this product for later