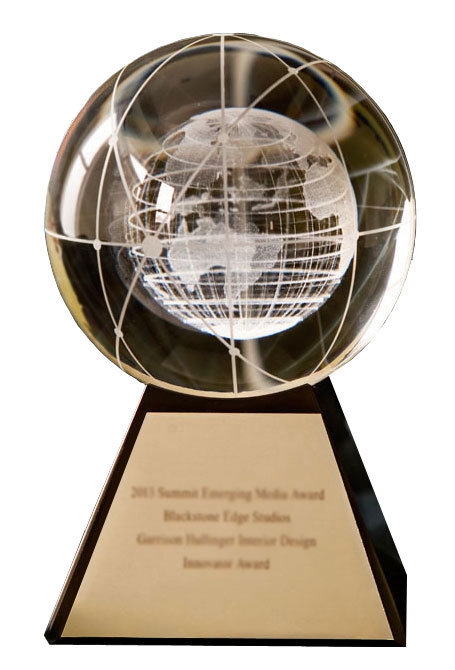 Off-continent EMA Trophy
SKU EMA-INTL
Product Details
Summit Emerging Media Award Trophy is made of solid crystal and has a holographic interior. The crystal globe spins, and its exterior has etched network nodes: jet black crystal base.
Four (4) inscription lines are available for winner personalization (40 character limit per line). The Summit Awards reserves the right to shorten lines over 40 characters. Year won and Summit Emerging Media Award automatically on the top line, and Win Level is automatically added to the last line. Most common inscription order lines 1-4: Winner Name, Entry Name, Winning Category, Client Name.
Off-continent Winners
The global supply chain is under pressure. While shipping locally and regionally is experiencing delays and price increases, international shipping is becoming prohibitively expensive to some locations. Shipping costs to some areas have quadrupled over the last year.
As a result, the Summit Awards worked with its trophy manufacturer to offer more flexible shipping options.
Shipping options for off-continent winners. Read carefully before choosing —
Ship to a US-based location (colleague, friend, or freight forwarding service.) For this option, use a US location for the ship-to address. Winners then handle the remaining transportation, including a colleague flying back, freight forwarder, or group shipping with other company necessities.
3rd-party billing - The trophy manufacturer ships trophies but bills the receiver's FedEx or UPS account. This option may not be less costly; but, it may allow shipping expenses to come from another budget. For 3rd-party billing, the following information is required (fill in the below fields):

UPS or FedEx Shipper account #
UPS/FedEx account billing address, including zip code/postal code.
Duties & taxes Prepaid or Collect. Prepaid is billed to the receiver's account. Collect will have carrier contact winner before delivery to secure payment.

Summit Award's trophy manufacturer ships with their FedEx account. For this option, email the Summit Awards before you go any further. Staff will get a quote from our trophy company. When emailing, please share:

The precise Ship-To address
The number of trophies.
Once you hear back from the Summit team with shipping, navigate to Off-continent Shipping item in the store to locate the cost quote you received.
Sample Inscription:
[Year] Summit Emerging Media Award (automatically added by the Summit Awards)
Winning Company Name
Winning Entry Name
Category
Client
[Level of Win] (automatically added by the Summit Awards)
Save this product for later