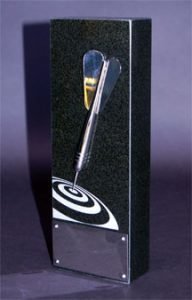 MEA Granite Trophy
SKU MEA-T
Product Details
COVID-19 update:
Federal Express has significantly increased its shipping fees due to increased demand, labor shortages, COVID-specific procedures, and holiday supply chain orders. We empathize with our winners and adjust shipping prices when our trophy manufacturer experiences reductions.
Please ensure you choose a shipping address that is "Open for Business." If returned or rerouted, there are fees incurred.
International/Off-continent winners, please use the Off-continent - MEA Trophy to place a trophy order. There are more specific instructions and different shipping than North American winners.
Summit Marketing Effectiveness Award
The MEA trophy is laser-etched onto black granite with a formed-stainless steel dart and custom-engraved plate.
Four (4) inscription lines are available for winner personalization (40 character limit per line). The Summit Awards reserves the right to shorten lines over 40 characters. The Summit Awards reserves the right to shorten lines over 40 characters. Year won, and Summit Marketing Effectiveness Award is automatically on the top line, and Win Level added to the last line. Most common inscription order lines 1-4: Winner Name, Entry Name, Winning Category, Client Name.
Particulars
Trophies take 3-8 weeks for customization. Delivery times vary depending on location and order receipt timing.
It's recommended to ship to a commercial address; however, it must be open for delivery. The awards can not be held responsible for residential theft. Use the pull-down menus to select the "ship to" and "commercial vs. residential". Not doing so may result in delayed processing.
Winners outside the United States assume responsibility for their country's/territory's import duties and taxes.
Sample Inscription:
[Year] Summit Marketing Effectiveness Award (automatically added by SIA)
Winning Company Name
Winning Entry Name
Category
Client
[Level of Win] (automatically added by Awards)
Save this product for later