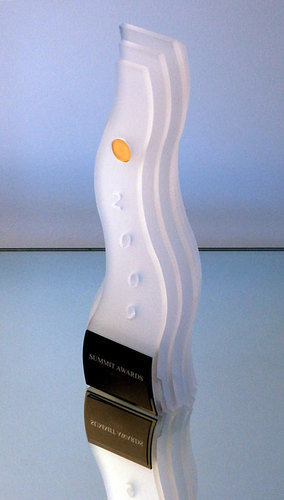 Composite Trophy
SKU COMP
Product Details
Due to global supply chain challenges, there will not be a Composite trophy offering for the 2021 year.
Summit Creative Award Composite Trophy

A more avant-garde, light in weight trophy offerings; traditionalist beware. Made of five graduate layers of pearl composite material, with knock-out year and metallic disc differentiating win-level.
Four (4) inscription lines are available for winner personalization (40 character limit per line). Year won and Summit Emerging Media Award automatically on the top line, and Win Level is added to the last line. Most common inscription order lines 1-4: Winner Name, Entry Name, Winning Category, Client Name.
Particulars
Trophies take 6-8 weeks for customization. Delivery times vary depending on location and order receipt timing.
It's recommended to ship to a commercial address; however, it must be open for delivery. The awards can not be held responsible for residential theft. Select the correct "ship to" and "commercial vs. residential" using the pull-down menus. Not doing so may result in delayed processing.
Winners outside the United States assume responsibility for their country's/territory's import duties and taxes.
Sample Inscription:
[Year] Summit Creative Award (automatically added by SIA)
Winning Company Name
Winning Entry Name
Category
Client
Save this product for later